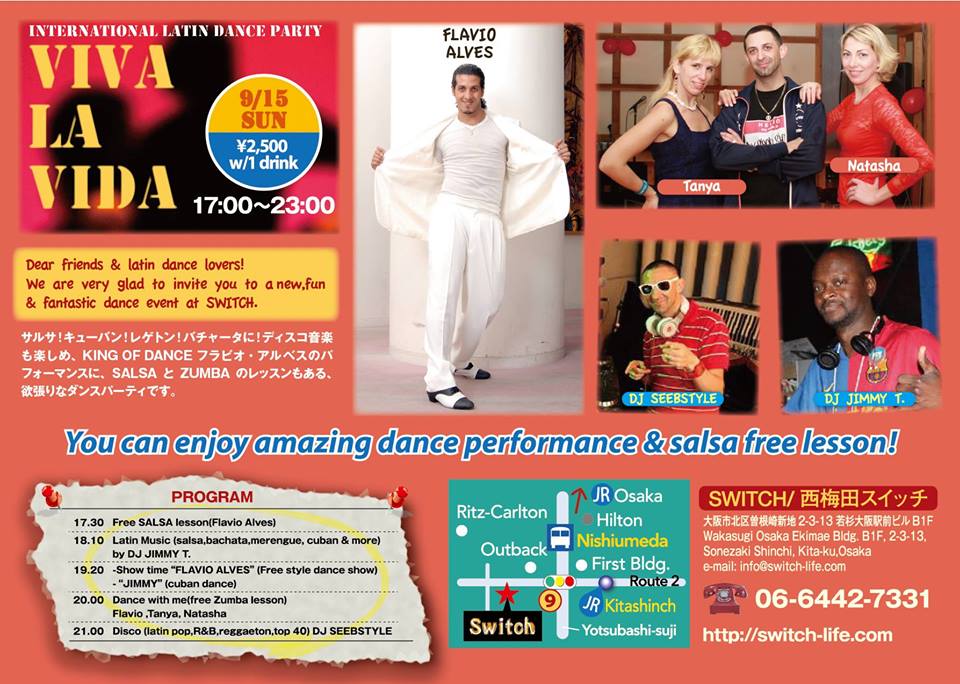 SWITCH,SHIGI TANYA & DJs: "SEEBSTYLE" & JIMMY T.
PRESENT
西梅田SWITCH主催のダンスパーティにようこそ!
サルサ!キューバン!レゲトン!バチャータに!ディスコ音楽も楽しめるインターナショナル・ダンス・パーティ!
プラス!KING OF DANCE フラビオ・アルベスのパフォーマンスに、SALSAとZUMBAのレッスンもある、欲張りなダンスパーティです。
KING OF THE DANCE FLOOR - FLAVIO ALVES
IN INTERNATIONAL DANCE PARTY "VIVA LA VIDA"
WITH CONCEPT OF FUN & PASSION IN HOT LATIN RYTHMS WITH GREAT PROFFESSIONAL DANCER & MORE
★DATE: SUNDAY,SEPTEMBER 15th
     2013 9月15日(日)
★TIME: 17.00-23.00
★Admission fee:2,500yen with 1drink & Lesson
         2,500円/1ドリンク付&レッスン付き
★PROGRAM
 17.00 Open
17.30 Free SALSA lesson(Flavio Alves)
18.10 Disco in latin style (salsa,bachata,merengue, cuban & more) DJ JIMMY T.
19.30 SHOWTIME :
FLAVIO(free style dance show)
JIMMY (cuban salsa)
FLAVIO (latin style dance show)
SPECIAL GUEST LOUIS BOSTON
(BLACKAN radio & TV)
20.00 Dance with me(free Zumba lesson)
Flavio ,Tanya, Natasha
21.00 Club Open format (latin pop, R&B, reggaeton, top 40) DJ SEEBSTYLE
★DJs:
DJ SEEBSTYLE (Minami Boyz/Trumen Records - Italy)
http://iflyer .tv/dj seebstyle/
http:// www.djseebstyle.com
DJ JIMMY T.
★LOCATION: CAFE & DINNING SWITCH-
OSAKA WAKASUGI OSAKA EKIMAE BLD
B1 ,2-3-13
SONEZAKISHINCHI, KITA-ku, 530-0002
TEL: 06-6442-7331
LINK: http://switch - life.com
Dear friends & latin dance lovers! We are very glad to invite you to a new ,fun & fantastic dance event at SWITCH.
FLAVIO ALVES is unique on the Kansai dance scene.
HE CAN DANCE EVERYTHING! All latin styles, hip hop, street, breakdance, Zumba, variety style , tango & more.
He was my Zumba and salsa teacher for a long time .
His lessons were always special & very emotional to me. Flavio doesn't just explain the movements ,but when dances he puts a lot expression and feeling into it. His dancing comes alive.
"VIVA LA VIDA" means: "Live your life","enjoy your life"...
ENJOY YOUR LIFE,BECAUSE LIFE IS BEAUTIFUL!
WARNING: IF YOU LIKE ITALIAN MUSIC, OLD MOVIES, ITALIAN APETIZERS, ART & more...
ON THE 14th saturday, i ll be djing for the italian party "L'aperitivo italiano" at Switch/international music bar (same place of "VIVA LA VIDA" Latin party), people who wanna join both parties will get 500yen OFF, here are more details:
https://www.facebook.com/events/202097596617517/?fref=ts